Mercedes-Benz GL350 CDI SUV: All Bulk and No Substance?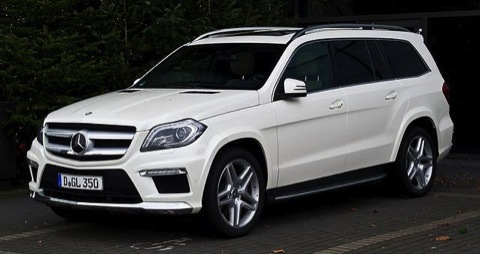 The Mercedes-Benz GL range has been described by its makers as an "alternative SUV to Range Rover, but with seven seats instead of five". Some reviews claim that this is Mercedes bid at producing the most luxurious SUV on the market. Yet despite this, the six foot tall, five metre long and two-and-a-half ton monster has not sold well across Europe. Possibly because, in reality this latest SUV from Mercedes, is something more akin to a busy parents German military tank shadowing all who fall into its steely warpath. But will the second generation of GL's improve upon the lacklustre sales? Or is the new Mercedes Benz GL350 all bulk and no substance?
Well for a start, this top class SUV from Mercedes is available as a GL500 with a V8 petrol engine, or a GL63 AMG which can top 62mph in just 4.9 seconds, not bad for such a huge vehicle. However, these two Mercedes-Benz models are for the more affluent amongst us. Those that don't have so much cash to splash should consider the the GL350 CDI version of this gargantuan beast.
It comes equipped with a 3 litre V6 turbodiesel engine as standard which leaves the RPM sitting rather comfortably at approximately 1800 when driving at motorway speeds. Combine this with the 'aero-acoustic' finishings and the in-car noise when thundering down the motorway at these speeds is minimal, ensuring that those sitting in the third row can converse easily with the front seat passengers, without being silenced by "road rumble". You're probably thinking that an improvement in performance equals a drop in fuel economy, but to the contrary, the second generation GL350 is reported to improve fuel consumption by up to 20%.
The quality of this ride is a real talking point too and is one of the reasons why the GL350 has caused so much of a stir. The interior oozes with high quality leather finishes while the ride is equipped with many luxuries and safety features as standard. Such as brake, hill start and collision prevention assist, a downhill speed regulator, tyre pressure loss warning, front and side airbags, a seven speed automatic transmission, the AIRMATIC suspension system, a built in LCD display which works alongside Mercedes-Benz very own COMAND system, operating the cars satellite navigation as well as all other information based media. There are, of course, the choice for many optional extras too, such as blind spot, speed limit and active lane keeping assist, thorax airbags for the middle seat passengers and the active curve system (ACS) for driving on continually twisty roads.
Premium quality SUV's have the arduous task of combining two distinctly opposite characteristics into one finely tuned package for the consumer. They must provide a comfortable and smooth ride from the inside whilst operating like an armoured military tank from the outside. From what we can see the Mercedes-Benz GL350 CDI certainly brings everything required to the table and the end result is an SUV that commands respect.
This article was written by Hayley Reeve on behalf of Mercedes specialists Service 4 Service. Offering an approved Mercedes Benz servicing in Leicester and across the UK nationwide.
Image courtesy of commons.wikimedia.org.