Bentley Unveils New Continental GT Speed Convertible at Detroit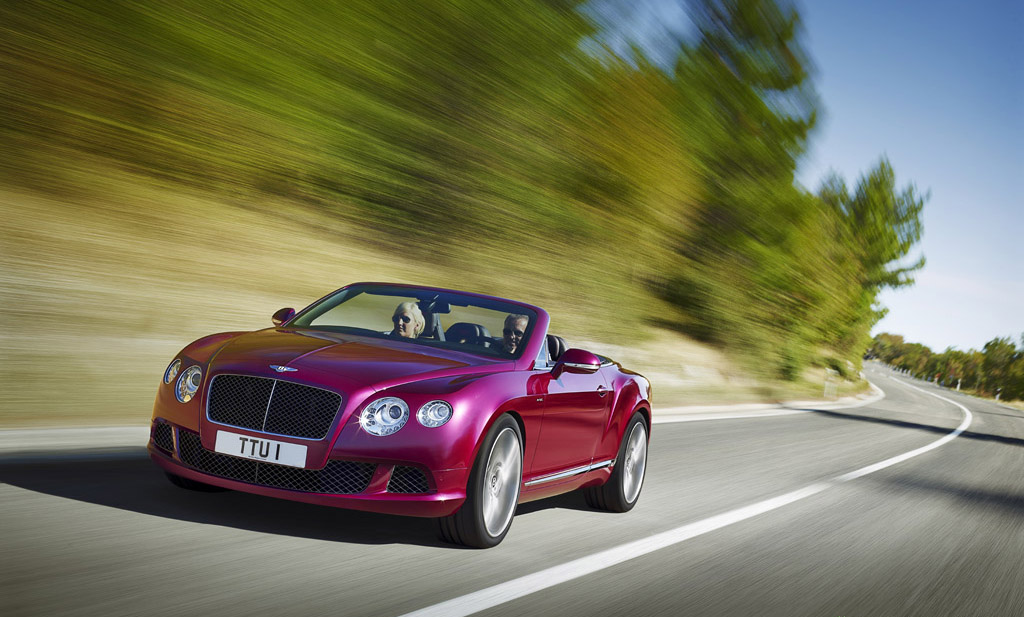 Bentley used the 2013 Detroit Auto Show to debut their new, more powerful Continental GT Speed Convertible.
Thanks to its 616 horsepower W12 engine, this 6,900 pound Continental sprints to 60 mph in just 4.1 seconds with a top speed of 202 MPH. Getting all that power to each corner is happily provided by an 8-speed transmission with permanent all-wheel drive.
Preventing the new Continental from getting beat up at boarding school are 21″ wheels with a 10mm lower sport tuned suspension and a tuned exhaust system creating a more aggressive stance with a deep baritone exhaust note to match.
The interior get's all the usual high end leather refinements with your choice of 17 different hide colors that can also be mixed and matched with your choice of stitching, carpeting and shoulder safety belt colors. Seat massage and a unique neck warmer that keeps you toasty with the top down on cool summer nights are a couple optional extras.
Infotainment upgrades include a 30GB hard drive with a continents worth of navigational data and 15GB of storage space left over for your music. Interest mapping, optional satellite landscape imagery, live trafic data and digital radio round out the upgrades.
Dr.Wolfgang Schreiber, Chairman and Chief Executive had this to say at the unveiling:
"The new Bentley Continental GT Speed Convertible is a truly breath-taking Grand Tourer, promising supercar performance and high end luxury, with the added thrill of open top motoring. This unveiling maintains our position as the largest producer of high luxury cars in the world, with our market share continuing to grow."
After a 22% increase in sales for 2012, this new GT Speed Convertible should help keep Bentley on track for a another record year.
New Bentley Continental GT Speed Convertible gallery:
Source: Bentley. Images source: Bentley